Overlap Guide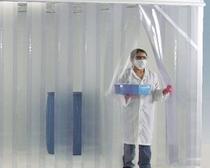 STRIP WIDTHS & OVERLAPS
We made it easy for you.
Choosing the perfect Strip Width & Overlap configuration for your use cases is not that hard. We made it easy for you with our handy guide so you can lock in on your purchase, confidently.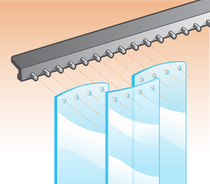 8" STRIPS & 50% OVERLAP
Industry Standard Most Common
Most versatile PVC strip door that will withstand pedestrian traffic and also accommodate the person walking with the truck. An effective plastic strip barrier, right in the middle in terms of effectiveness and ease of access.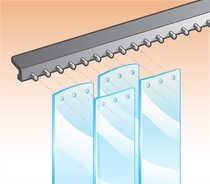 6" STRIPS & 67% OVERLAP
Smaller Doorways, Most Economical
Using less overlap with a more economical material is suitable for smaller doorways and pedestrian only traffic. Consider heavier strip for bigger openings or motorized traffic. Light duty solution for walk-in coolers.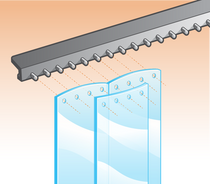 8" STRIPS & 100% OVERLAP
Industry Standard Full Overlap
Two layers of strips across the doorway, for when larger strips are too heavy. Used mostly to save energy and control negative and positive air pressure, wind, seal off air, noise, dust between the office and warehouse openings.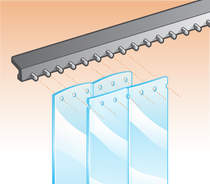 6" STRIPS & 100% OVERLAP
Walk-In Freezer Industry Standard
Smallest strip in full overlap, two layers of strip across the hanger, provides the perfect seal for walk-in freezer applications. Also used for smaller openings as an economical barrier for air pressure, temperature, noise, dust.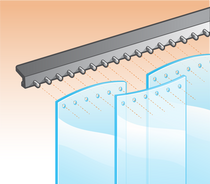 12" STRIPS & 67% OVERLAP
Heavy Duty, Big Openings, Machine Traffic
Big heavy strip for large openings, forklift traffic, trucks and machinery. Uses less material and easier to pass through than full overlap. If lighter loads are typically carried, too heavy of strip may drag product off of the forklift.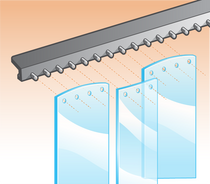 8" STRIPS & 25% OVERLAP
Economical Commercial Industrial
Industry standard strip width, using less overlap requires less strip material and makes perfect for high traffic pedestrian traffic. Carry loaded serving trays or boxes through with ease, Good for walk-in coolers.